Underwater Structures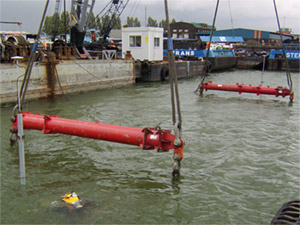 The use of asphalt underwater has been developed for scour protection but there are many other applications.
Typical applications
Protection of tunnels, for example, under a busy port waterway
Protection of pipelines and cables under canals from dredging work or anchor drag
Outfall structures
Protection of sluice aprons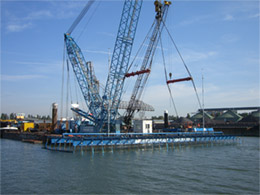 A choice of materials
A grouted stone layer
Prefabricated mattresses of Open Stone Asphalt
Prefabricated mattresses of Dense Stone Asphalt
The mastic / rock combination
A superior alternative to rock alone:
Reduces the amount of rock
Increases the security of the structure
Mastic's thermoplastic properties give excellent performance under short-term high impact loads as well as under long-term settlement load
Tunnel Roof Protection

Where tunnels pass beneath navigable waterways there is a risk of damage to the tunnel structure from anchor drops.
Traditionally the tunnel has been positioned deeper to keep away from the anchors, or a relatively thick layer of rock armour has been used. Reinforced concrete is an option but it is not flexible to withstand settlements/riverbed movements. Concrete is not an ideal material to withstand high impact loads.
Asphalt mattresses are another option which can give the following advantages :
Relatively thin mattresses – typically 0.25-0.30m thick.
Flexible material to withstand settlements at edges.
Excellent properties against high impact loads.
The thinner construction may give the following advantages :
Shallower excavation required for tunnel construction, therefore easier.
Less excavation required, therefore quicker.
Possible savings on approach works to the tunnel – also less deep constructions.