Rivelin Dam, Peak District National Park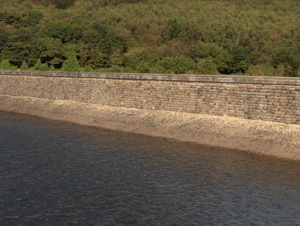 Rivelin Lower Dam is used to supply water to the nearby treatment works. The upstream face is protected with stone pitching which has weathered over the years and more recently suffered from some vandalism. A long-term solution was required to strengthen the upstream face and which was acceptable to the Peak Park Planning Authority.
Yorkshire Water proposed Open Stone Asphalt or repairs to the stone pitching. Although there were initially concerns over the visual impact of OSA, we proposed to surface-dress the layer of OSA with a gravel which helped the revetment blend in with the natural stone wave wall.
Other Safety & Environmental benefits of OSA over pitching repairs included a quicker installation time, longer life-expectancy, and majority machine-work rather than hand-work.
Lean Sand Asphalt was used to fill voids in the pitching before a layer of 150mm OSA was placed over the upstream face.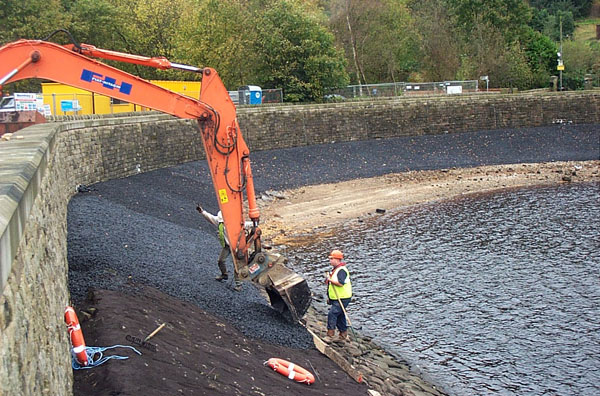 Details
1,500 m2 of upstream face protected.
Lean Sand Asphalt placed to fill voids between stone pitching
Minimum of 150mm Open Stone Asphalt placed over upstream face.
Crest trench for OSA used to provide additional stability due to steep slopes up to 1 in 1.5
Non-limestone aggregate used due to acidic water
Gravel surface dressing applied to OSA surface to reduce visual impact of work.