Europort, Port of Rotterdam Harbour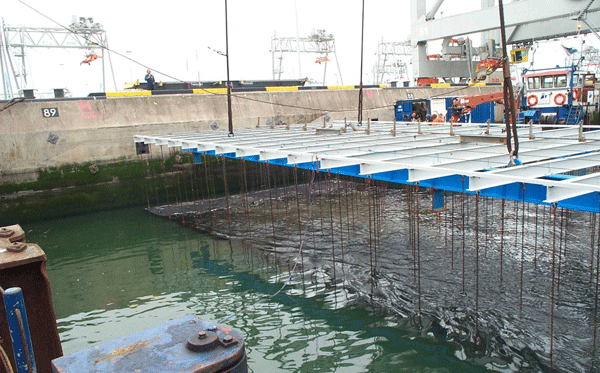 The Port of Rotterdam Harbour Authorities commissioned deepening of the bottom profile of the container terminal adjacent to 1,330 m of quay wall in Europeharbour, part of Europort.
The existing scour protection consisted of 1.1m of rock. By replacing this rock with a 0.20m thick mattress of Open Stone Asphalt, the depth in front of the quay wall was increased without reducing the stability of the sheet piled quay wall.
Using OSA mattresses in this situation is a new application for a technology established in coastal engineering. The mattress thickness depends on the hydraulic loads developed by the propellers.
Installation had to mesh with the facility's complex logistics in which shipping activities took precedence in a terminal operating 24/7/52. Working on sections of quay as they became available depended upon close co-operation with the container operator's planning department. Separating production and installation was a key to meeting deadlines. OSA mattresses – pre-fabricated on pontoons at a nearby harbour – were ready for the next installation opportunity.
Specialist mix designs and quality control ensured by pre-contract research and laboratory trials
110 mattresses (20.5×11.4×0.2m) x 92 tonnes
Installation at 16m depth using a special lifting frame, assisted by divers
Continuity of protection ensured by sealing gaps (mattress/quay and mattress/mattress) with asphaltic mastic
The robust, bound scour protection leaves a regular surface which is easily maintained (dredged when necessary).
Flexible material follows any settlement and allows a secure tie-in with outer rock layer.
Project completed on time and on budget – 22 weeks on site.