Dam Waterproofing
For over 70 years, pervious embankment dams have been waterproofed with asphaltic concrete – as either facings or core walls. Advantages include economically attractive construction times, frost resistance, flexibility against dam settlement and compatibility with potable water.
Construction of asphalt cores and linings requires experience, careful planning, high standards of materials quality control and effective works supervision. With its long history in dam construction, Hesselberg Hydro is well placed to provide such expertise.
In co-operation with water companies, consulting engineers and environmental agencies, Hesselberg Hydro uses its experience to create innovative, cost-effective solutions for both new schemes and for maintenance of existing waterproofing structures. And to avoid disruption of operational commitments, times on site are always kept to a minimum.
Free advice available on construction techniques
Inspection and maintenance programmes are our speciality
Please click on the links below to review recent projects: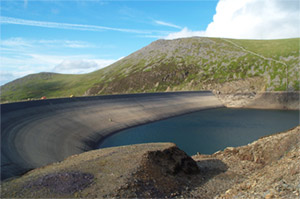 Dam waterproofing & asphalt dam linings
Inspection & maintenance