Coastal Protection
One of the original proving grounds for asphalt in hydraulic engineering
Flexible, permeable and durable systems to withstand hydraulic loads for the majority of coastlines
Asphalt was first used extensively for coastal flood protection in the Netherlands in the 1960's prompted by severe storms with flooding and loss of life. Research and development has continued ever since leading to a 'state of the art' flood defence system for the west of the country.
In the UK, Hesselberg Hydro's first contracts applied this technology to coastal defence at Caister-on-Sea in 1986/87 and at Immingham in 1989/90.
A range of materials are used, including Open Stone Asphalt (OSA), Lean Sand Asphalt (LSA), and for the most severe environments – withstanding waves up to six metres high – Grouted Stone with its proven track record in the UK and mainland Europe.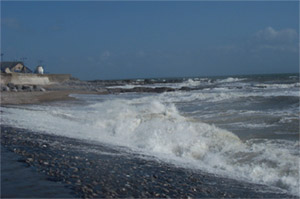 For information on Grouted stone see Materials or Rock Structures
Initial concerns over visual impact have been allayed – asphaltic materials blend rapidly with natural coastal environments.
Links below to review projects:
Seawalls
Estuaries