West End Revetments, Dovercourt, Essex
Hesselberg Hydro has been working with Tendring District Council since 1995 and the works at West End started in 1998. The site was a waste tip for many years and when filled was encapsulated and the seaward edge was protected from erosion with a concrete block revetment.
The original Essex-block revetment was replaced in the mid-90's with an articulated concrete block mattress revetment. The concrete-block revetment soon failed and was replaced in 1998 with a revetment of 200mm OSA placed on 150mm LSA filter. In 1999 the revetment was extended at each end and the toe was lowered. The foreshore level along the coastline was regularly monitored and there was concern that the existing revetment could be undermined due to erosion at a higher rate than anticipated. The solution was to install a grouted stone toe up to 5m wide which is designed to follow future scour and provide protection to the revetment.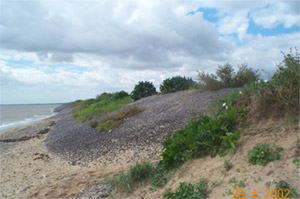 Phase 1 – 4,000 m2 revetment. 200mm OSA placed on 150mm LSA
Phase 2 – 1,200 m2 revetment. 200/150mm OSA placed on 150mm LSA
Phase 3 – 1,200 m2 grouted rock slab at toe – 350mm thick, width of 3-5m depending on existing toe level.