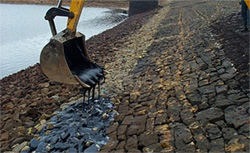 Asphaltic Mastic
Structure and Properties
An overfilled sand, filler and bitumen mix (typically, 3:1:1)
Naturally dense so no compaction needed.
Can be poured at working temperatures.
Cools to form a viscous, flexible quasi-static mass.
Impermeable.
Bulk can be increased by adding up to 40% stone (known as Mastic Grout).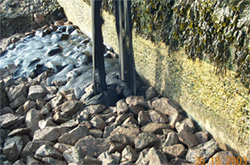 Applications
Component of grouted stone.
Component of OSA.
Asphalt slabs for lining above and below water.
Reinforcing stone revetments.
Bed and toe protection.